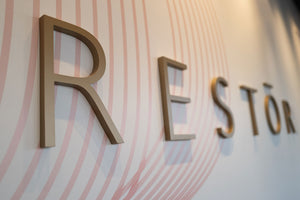 RESTOR was founded with one primary goal: making aging optional. Thanks to scientific advancements, we can arrest the progression of age to help you maintain everlasting youth.
Our aesthetic nurses and aestheticians curate the ideal skincare plan to address your unique skin concerns and goals. We help you design personalized skincare plans to reverse the signs of aging, prevent skin damage, and maintain everlasting youth. 
Your Personalized Skincare Plan
At RESTOR, we curate a personalized treatment plan and roadmap to help you achieve your goals. Whether you need slight touch-ups or the reversal of a decade of wrinkles and fine lines, our medical-grade skincare plans help you achieve your goals.
Skincare is a lifelong journey, and maintaining youthful skin requires consistency. Our aestheticians formulate a roadmap that highlights which products you need during every stage of your journey — daily, monthly, quarterly, and yearly.
Formulated by Experts
RESTOR provides medical-grade skincare formulations based on your unique goals and requirements. Our aestheticians and practitioners are graduates of a challenging Medical Esthetics curriculum designed by Dr. Waples.
We are committed to lifelong learning and advancement — we stay abreast of the latest developments in cosmetic science to bring the best products to you. Our commitment to personalized care and constant scientific advancement helps us make aging optional.